With almost 200,000 park home owners in the UK alone, more and more individuals are looking to invest into the cleverly designed cosy homes. But how is it made and how do they differ from the traditional homes?
Whilst on the surface things appear to be very similar with indistinguishable features like double glazing, beautiful patios and cosy living spaces, this certainly look very different behind the scenes. Not only are they made using different materials but are also constructed in a completely different manner.
What many individuals may not know is that unlike traditional homes, they are not built on site. Instead they are put together in factories and transported to their location. Whilst certain materials and styles of construction may differ, every park home will use timber framing which is installed on a robust steel chassis.
They way in which they are manufactured allows for flexibility during the design process, giving the buyers options to choose from rather than having to settle for a specific design.
Making the Chassis
Building the perfect park home always starts from the ground up, with the chassis being the first element considered. This is what makes the homes mobile rather than being a permanent structure.
While some companies opt to make their frames externally by chassis manufactures, others choose to make their own.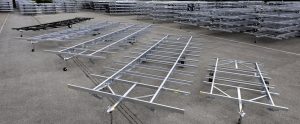 Source: www.bankside-patterson.co.uk
Creating the flooring
When the chassis is completed, the creation of the home flooring can commence. Most park home floors will be constructed using high density wooden boards which are attached to timber joints. All together they get bolted to the frame, followed by the installation of insulation.
Adding park home walls
Once the base in completed, the walls can be placed to form the main structure of the park home. Typically the frames use timber studwork and are combined with exterior cladding and plasterboard interior to create a strong-built shell.
The roof over the shell 
Almost all park homes use lightweight metal roofing. This will be fixed to wooden joists. The continuous bonding of the floor, the walls and the roof ensures for a strong and sturdy finish.

Source: www.outandaboutlive.co.uk
The cherry on top
After the completion of the outer shell, the manufactures can shift their focus towards the interior. This is where specialists start working on the installation for all the pipe work and electrics, as well as, the fitting of all the furniture.
And that is how the park home comes to life.