Park Focus
Yearly Industry Magazine
Our MISSION is to PROTECT, EDUCATE, RECOGNISE, SUPPORT and TRAIN UK Park Operators and Service Providers
Exciting New Annual Industry Magazine
Park Home & Holiday Park Association Presents The Newest UK Industry Magazine
Shaping The Future For UK Park Operators and Suppliers
More Than Just An Industry Magazine
With our experience in the industry, our magazine will be an insight into startup park operators as well as seasoned  and developed operators and service providers in the UK. Park Focus magazine is a magazine for our members. We are here for you.
Available both digitally online with media rich videos and interactive content, as well as a printed version posted and delivered directly to our members.
Join Park Home and Holiday Park Association as a new member and your adverts are included
Choose your advert or editorial content size according to your membership level

You are now being featured in Park Focus. The official PHHPA members magazine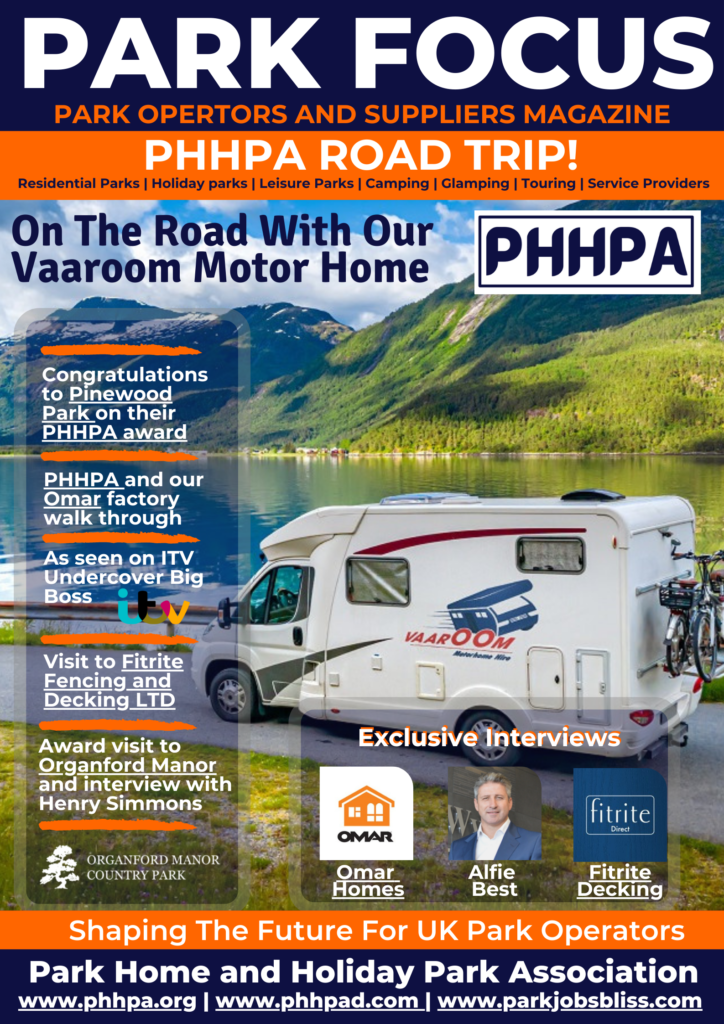 Park Focus Magazine From PHHPA
PHHPA Established In 2021
We created our new association to serve park operators and suppliers throughout the UK. We are here to listen to you, support you and to help provide training and development growth for park operators and suppliers in the UK.
Furthermore, we are also here to recognize your park success with PHHPA regional and national awards. We look forward to promoting your parks in Park Focus Anual magazine and in our online interviews and reviews.
Register With Us Today And Join The UK's New Association For Park Home, Holiday Parks
Leisure Parks and Industry Product and
Service Providers
The New Voice In Park Homes
The UK parks industry is growing. With affordable housing high on the agenda coupled with the UK housing shortage crisis, more residential park home estates are needed urgently to help with housing demand. More and more families are looking for affordable retirement living. UK residential parks offer a sense of community and sense of belonging.
The holiday park and leisure park sectors are experiencing high levels of bookings for 2021 and beyond as the uncertainty of COVID-19 and restricted foreign travel means that more UK families are opting for the Great British staycation than ever before.
The future for UK park operators is exciting. We are delighted to have created our new association. We look forward to working with industry leaders and wherever possible supporting and lobbying government to raise the awareness and continued growth of UK parks across all sectors.
How We Can Help Your Growth, Education and Visibility Now and In The Future
Membership
Membership levels for all levels from start up to seasoned expert operators.
Expert Industry Taining
We offer a 360 degree training platform. Supporting you with everything that you need to grow your business..
Park Focus Members Magazine
The magazine that brings operators and suppliers together.
Park Home Operators and Suppliers Awards
Our most exciting project recognizing outstanding performance for operators and suppliers county by county.
We Will Help You Grow Every Step
Of The Way
We Recognise, Support, Train and Market Park Operators, Suppliers and Service Providers to The Industry 
"Park homes are small and could be suitable if you want a home that's easy to manage and all on one level. Buying a park home can be an affordable way of living in an area you like. Park home sites can have more of a community feel than traditional housing, which could be good if you're feeling lonely"
Nominate Park Operators and Suppliers To Win a Prestigious PHHPA Award
Three Awards Levels Across Numerous Award Categories

Become a Park Home & Holiday Park Association Member
We Look Forward To You Joining Us A Member As We Work Together to Support and Encourage Growth and Development Within UK Park Home Estates, Holiday Parks, Leisure Parks Operators and Industry Trade Suppliers.