If you follow our socials (which you definitely should be) you will know that recently we held our very first PHHPA start-up park operator training course. This included 3 days of intensive learning for our delegates, and a day visit to one of Wyldecrest premium residential parks called the Rookery Drove.
Overall, it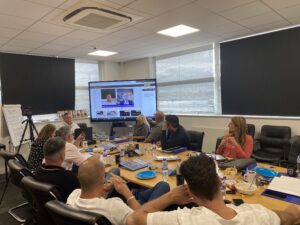 has been an extremely valuable experience for the PHHPA team, full of lessons and many firsts (of course not for our very experienced directors). Keen to find out more about the course and hear the behind the scenes of running an event? Keep reading to find out.
Day 1:
Let me just set the scene for you before we get into the actual training course. It is day 1 of our course, the excitement and nerves are flowing. Have we prepared well enough? Is everything set and ready?
So many thoughts running through our minds with so little time to do last minute checks. And then we're faced with heavy traffic and members of the team arriving later than expected due to the circumstances. Already off to a testing start.
Things do get better! Upon our delegates' arrival, we greet them with pastries and hot drinks to get them settled and comfortable. Amongst the chatter we begin to get to know everyone and their background, getting us even more excited for the next few days to come.
Our director, Bradley, began by introducing the course to our delegates and completing a quick run-through of the housekeeping before we got into the nitty gritty. After this, we finally got into the course.
Day 1 focused on the basics, from the history of park homes to the different types and models. Our delegates were introduced to the key information that all individuals within the park home industry must know to gain a deeper understanding of the origins and the structure of park homes.
Whilst everything was smoothly operating on the front end, behind the scenes included our director Kim and other PHHPA team members running around in the kitchen trying to organise the lunch for everyone. This is where we had to get creative, organising delicious sandwiches, small snacks, and finger foods to fill our delegates up, ready to continue learning.
Day 1 was a success in our books. Following the end of the course everyone returned to the hotel, got themselves checked in and continued to mingle and connect ready for a group dinner.
Day 2:
Day 2 was a bit less nervy and a lot more exciting. I can confirm, it definitely had a much smoother start. With more people joining us on day 2, it was quite moving seeing our delegates connect and network amongst each other.
This day consisted of information about financing your park, renewable energy, legal requirements, income streams, and park design and structure. During this, we welcomed many speakers through livestreams where our delegates were able to gain insightful information from the experts themselves as well as get any of their questions answered. Another day, another success.
Whilst the course is running in full swing, the rest of the team pays a visit to the local shop to prepare the lunch for the delegates. We had a flavourful selection of sandwiches, sushi, pork pies and let's not forget about the sweet treats. Truly mouth-watering just thinking about it. What stood out to me during the lunches, was how great of an opportunity it was for everyone to share their stories, experiences, and tips and tricks.
We had an incredible collection of delegates, all operating within successful businesses. Like-minded individuals made for excellent conversation and connection building.
Alongside great training content, we had a number of exciting visitors. From the park home king Alfie Best to a reality TV sensation Kirk Norcross and more. They shared their thoughts, opinions, experiences, and growth stories. Sprinkling motivation and inspiration to our delegates as well as our start-up association.
The fun didn't stop there. For Thursday night we had organised a dinner for all the delegates, the directors and the PHHPA team. We continued to bond over common interests and share more stories amongst each other over some delicious wine and any other choice of beverages.
This is also when the PHHPA team was able to finally let their hair down and take a breather from an incredibly tough few weeks of organisation and preparation. It was a great bonding experience for the team and the delegates.
Day 3: 
Following last night's excitement, we started our training day a little later than usual.  We began with group work to get the energy going and the minds thinking. Our delegates were able to get creative with their future planning and showcase their knowledge and everything that they have learnt so far.
Just like the previous two days, the final day was filled with training, livestreams and experts sharing their knowledge. We had livestream guests from Eureka Capital Allowances all the way through to in-life visitor Joel of Vandercom speaking about video marketing.
This day was much more light-hearted and less fast-paced due to the heavy load of previous days. For lunch we even treated our guests to a delicious collection of various pizzas and sides which we had delivered. I can assure there was not a slice of pizza left in sight.
We ended the night with a tasty and cheerful visit to the curry house where we all enjoyed our final evening together over some curry and drinks. Ending the night in high spirits ready for tomorrow's park visit bright and early.
Day 4: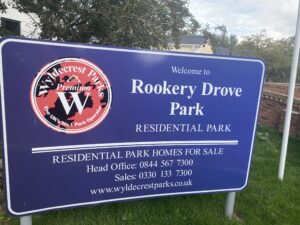 As promised the final day involved a premium residential park visit. We travelled to Rookery Drove of Wyldecrest Parks. It is a park that Mr Best and the Wyldecrest team have been working on for a little while now.
Rather than visiting a park that is completely finished, we wanted to show a park that is a work in progress. This allowed our delegates to visualise their dreams, from our information to a real-life creation.
We were able to see the park and its landscapes, completely visualising its full potential. Additionally, we showed our delegates the inside of the park homes available for sale. We saw a single unit alongside a double unit. Each beautifully designed, with a cosy and comfortable feel. The park itself oozed peace and tranquillity, perfect for a wholesome and relaxed retirement.
And that concludes our first ever training course. And what a few days it has been. It has been absolutely inspirational to be amongst such hard-working and entrepreneurial individuals. On behalf of all of the PHHPA team we would like to thank our delegates for attending this course, we cannot wait for what the future has in store. Also, stay tuned to see more videos, pictures, and articles all about the training event.
Be sure to never miss one of our amazing events again, check out www.phhpa.org to stay up to date. Check out our socials to stay in the loop too.