Have you ever visited a park home site and thought to yourself – 'how are these mobile homes even placed here?'. Keep reading to discover just how the park homes are transported and sited ready for the resident.
A typical park home measures at 20×40′, therefore when transported from the manufacturers or previous owners they are delivered as two separate units. Upon arrival, a Land Rover will fasten to the tow bar attached to each unit to help lower the unit onto the road. It will then tow the unit into place. Whilst this may sound like a simple task, many complexities are involved and several hurdles can be faced. Thus, it is essential that a considerable amount of planning takes place prior to the siting of the park home.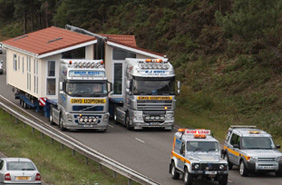 Source: www.mjweuropean.com
In order for the process to run safely and smoothly, here are some of things you should consider:
Ensure easy access
Large goods vehicle is usually used to transport the park home units. Due to its size, it will need easy access with nothing getting in its way, including things like patios, trees, other homes etc. Alternatively, the large goods vehicle may have to find a suitable location for loading.
Therefore, when planning, double check that nothing will get in the way of the transportation of the units.
Protect your furniture
As established already, in order to get your park home sited, it involves moving and loading the property into place. As a result, in order to protect your furniture and any other interior you should consider removing valuables and safely securing anything else that is at risk of being damaged through the process of transfer.  Ensure that everything is safely attached, by tying drawers and cupboards and bubble wrapping anything that can be broken, you will avoid any damages caused through the transfer. Saving yourself from a headache as well as unnecessary bills.
Picking the right transport
This is another essential step in your planning process as not all transport providers can transport all types of units. Unfortunately in this case it is not one size fits all circumstance. Instead, before confirming the transportation arrangements, ensure that the transfer company is aware of the exact specifications so the right transportation is in place.
Overall, the process of transportation and siting takes several days. Once the siting specialists are finished, plumbers and electricians can begin their roles and prepare the home. After this, the park home will be ready for your enjoyment.