Park Home and Holiday Park
Association
Our MISSION is to RECOGNISE, ELEVATE SUPPORT and TRAIN UK Park Operators and Service Providers
An Association for Park Home and Holiday Park Manufacturers, Park Home Operators, Providers and Suppliers In The UK and The USA
Exciting times ahead as we work with UK and USA based park operators, park home manufacturers, park suppliers and park service providers. Bridging the UK with our American Cousins across the Atlantic as we move ever closer to supporting and ecouraging the development, growth and delivery of affordable housing globally.
Join Us (Limited Time 50% Off Offer)
Register With Us Today And Join The UK's
New Entrepreneurial Association For Park Home, Holiday Parks
Leisure Parks and Industry Product and Service Providers
Park Operators
Join the association for Park Operators
Park Suppliers
Join the association for Park Suppliers
An Association for Park Operators, Providers and Suppliers
We recognise, support, market and train operators, providers and suppliers working within the industry. Read on to find out how we can help your business to fully utilize our association membership and benefit from our training services. You could also be featured in Park Focus Magazine and be nominated to win a PHHPA Industry Award.
Private Investors Parks Aquisition Division
& Caravan Sales Division
Inspired And Motivated To Help You GROW
Identifying, Assessing and Delivering Your Training and Growth Needs.
From sales to marketing, team building, site licensing and planning, social media, video marketing. Weve got you covered.
Implementing a Leading Sales, Marketing and Internet Dominance Strategy.
We help you dominate, excel and surpass business development and sales targets.
Get Your Company Nominated and Win a Prestigious PHHPA Award.
We show you how to secure nominations, become shortlisted and WIN a prestigious PHHPA award
We Will Help You Grow Every Step Of The Way
From startup park operators, business and service providers to established and industry leading companies. We are the inspired growth arm of your business.
Park Home & Holiday Park Association as seen on ITV
Have you seen the first episode of Undercover Big Boss? Our Director Bradley Chapman went undercover on the show with a female colleague, who was pretending to be his wife. He was tasked to Mystery Shop a Park Home as a difficult customer. Take a look at our video detailing the event.
Your complete 360 park business growth, training, events and business and internet marketing turnkey solution
PHHPA Industry Awards
PHHPA Industry awards presented across multiple categories and UK areas regionally and nationally
PHHPA Member Directory
Optimized and indexed online nationwide PHHPA member directory for park operators and park suppliers
PHHPA Specialised Training
Industry leading park operator, business, entrepreneur team training and events
"Bradley has a fantastic drive to see the systems that's needed to make a whole process work and turn challenges into champion goals."
Alfie Best
Wyldecrest Parks
"Brad is a true professional, reliable and trustworthy. His clients come first. Highly recommended and he has a good business concept with his company."
Simon Sugar
Amscreen
"Great guy with a genuine interest in helping you. His knowledge is very good and certainly came in handy for me!"
Tony Fairs
Fairs Estates
"If you're looking to grow your business, then look no further than Bradley. His determination and commitment to achieving Yes You Can is outstanding. With an extreme intuitive gift Bradley will guide and identify exactly what you need to do to increase your sales and market yourself to grow a unique brand and profitable business'
Karen Whitelaw-Smith
The Spiritual Soul Sanctuary Ltd.
Brad is a character that will change you thinking, your approach and your vision. He has incredible insight and energy. Coaching and mentoring abilities are two of his best attributes.
Sheila Sutton
WSP in the UK
Bradley came to see me, chatted and inspired that you can achieve anything. Thank you Brad for your time & enthusiasm given for me to keep going.
Ruth Beenham
Smile Publishing Ltd
I attended a 2 day sales fundamentals course run by Bradley in summer 2016. I moved from a technical production role in brewing to a role with a sales focus on it and wanted to achieve a good foundation in the basics of sales theory and practice. Bradley was a very passionate tutor who guided us through some very important and valuable sales theory and techniques and catered well for a very diverse group on the course. During and following the course I felt very encouraged and motivated to improve a side of business that had previously been alien to me. Ultimately, I came out the course feeling increasingly confident that set me up well for further progress in a sales lead role. Bradley's personality and experience was key to the success of the course and I would recommend him as a tutor in sales theory and practice.
Robert Percival
Lallemand
I've known Bradley since 2010 and have worked with on on various projects during this time. I consider Bradley one of a kind in business and have always valued is experience and advice. He has a great optimism and has been faced with so many challenges that he remains one of my key contacts for advice and has never let me down in telling me straight how it is. I cannot recommend Bradley highly enough to business owners and entrepreneurs alike.
Daniel Cook
Markadept
Nominate a Park Operator / Supplier today
Nominations are now open for voting for your favourite Park Operators and Industry Suppliers. Managing Director Bradley Chapman explains more in the following video
Supporting and Recognising The Industry Best
Park Operators and Supplier News, Articles and Reviews
Introduction: Residential park home sales have faced a significant decline for many park operators, causing concerns in the industry. With Bank of England interest rates
Read More »
Unwind in Luxury: The Warren Estate Holiday Lodges Hot Tub Heaven Introduction: Step into a world of tranquility and luxury as we explore the remarkable
Read More »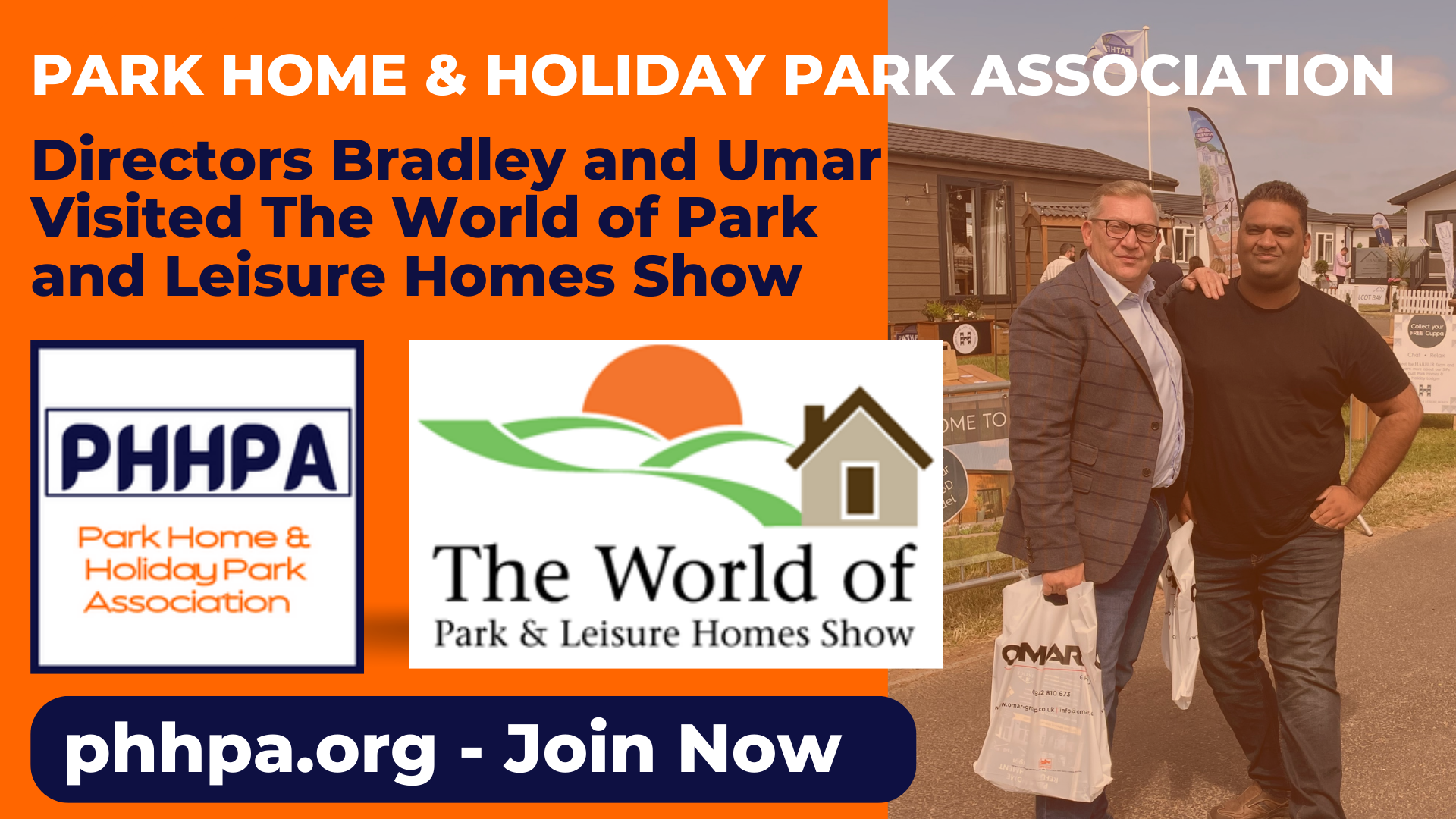 The Park Home and Holiday Park Association had an incredible time at the World of Park and Leisure Show at Stoneleigh! Bradley Chapman and Umar
Read More »
Founding Members &
Commercial Partners
OUR GROUP OF COMPANIES AND SERVICES